Fruitz Dating App Review – Can You Hookup?
Fruitz is a fairly new dating app originating in France where it quickly became a hit and is now taking the world by storm.
Why the name Fruitz? Because you choose different fruits to show what you're looking for, be it one-night stands, friends with benefits, marriage, etc. And when you match, you get a smoothie (you blended!).
It's a quirky and fun concept, but do you actually find any hookups there?
Read our full Fruitz dating app review to find out!
–
Founded: 2017
Rating: 7/10
Estimate Number Of Users: 5 million+
Popular Age: 22-31
Active Audience: 50%
Fraud & Scammers: 20%
–
How Does Fruitz Compare to Adult Friend Finder? 
This is like comparing apples to oranges, no pun intended!
Adult Friend Finder is an adult dating site, and it is the gold standard when it comes to hookups. Fruitz is a dating app that lets you choose if you're looking for a relationship, friends, friends with benefits, or one-night stands.
On Fruitz you might find people wanting to talk dirty, on AFF you're guaranteed to find people wanting to talk dirty, do live webcams, and have online sex as well as real-life hookups.
AFF has a very active community and the site purely focuses on sex. There are erotic videos, members partake in contests sharing erotic stories, and so forth.
Fruitz, on the other hand, focuses on pairing people up based on what kind of relationship they're after. They also have interesting "crushnotes" (a.k.a. questions) you can set up to start conversations.
To conclude, if you're only looking for hookups then obviously, Adult Friend Finder wins by far. But if you want to flirt with young and attractive people, score dates, and don't mind the uncertainty then Fruitz isn't a bad choice.
Is Fruitz Worth Your Time and Money?
Fruitz is big in France – It's the home of the app and if you live there, you're likely to find plenty of matches.
The rest of the world? That's where it gets tricky.
In other words, you will not find that many members near you if you're in the U.S or most other countries.
But the app is growing FAST (it was acquired by Bumble), so you could check back in a couple of months' time if there are no members near you right now!
Secondly, Fruitz is an app similar to Tinder–you see a photo and swipe right or left. That means the young and hot crowd loves it. Those who are over 40 or don't have the perfect profile photo might not be so lucky.
The app also has innovative search features. You can filter out your searches based on what type of relationship (fruit) you're looking for!
So it's not like you have to waste your time sifting through tons of people who are looking for long-term relationships if you only want a hookup.
All in all, we think Fruitz is a great app and even if you aren't from France, it's worth a try because it's growing fast so you might just get lucky!
The Outcome of Our Fruitz Review 
So what's the verdict–do we like the Fruitz app? And what features can you find on it? Here comes the deep dive!
Pros and Cons of the Fruitz Dating App
Fruitz is a quirky little app with a nice design–there's no doubt about that. Beyond that, there are both pros and cons.
Pros: 
Intuitive design/interface
Takes you through the signup process step-by-step
You can add GIFs to your profile which gives it a bit of personality
It's very easy to see what people are looking for as they choose a fruit to represent the relationship they're after!
You can leave your search open for all types of fruit or just choose the one
We didn't find any fake profiles (though there are bound to be a few)
You can use the app without paying
You can search for members based on location, age, sex, and fruit
You can set up questions ("crushnotes") that work as icebreakers when starting conversations
Cons: 
We didn't see any form of member identification available
The design of the fruits looks a bit corny (but maybe Gen Z likes them…)
You don't see people's interests
The app is only popular in France and there aren't too many members worldwide
Many members complain that unless you pay to boost your profile, it's difficult to find a match
You need to upgrade to access Crushnotes
What Does Each Fruit Mean on Fruitz?
You use different fruits on Fruitz to signal what kind of relationship you're looking for. (Looking for different fruits on Fruitz–what a sentence LOL.)
Grapes: You're looking to wine and dine – friendship or perhaps casual dating. No one-night stands.
Cherries: You're looking for the one and only; your other half.
Peach: You wanna get down and dirty in 'em sheets!
Watermelon: Friends with benefits. No strings attached.
We found a nice mix of what members were looking for. And you can set your search so that you only match with members that have a specific fruit if you want to (with a Golden membership). Or you can search for all members!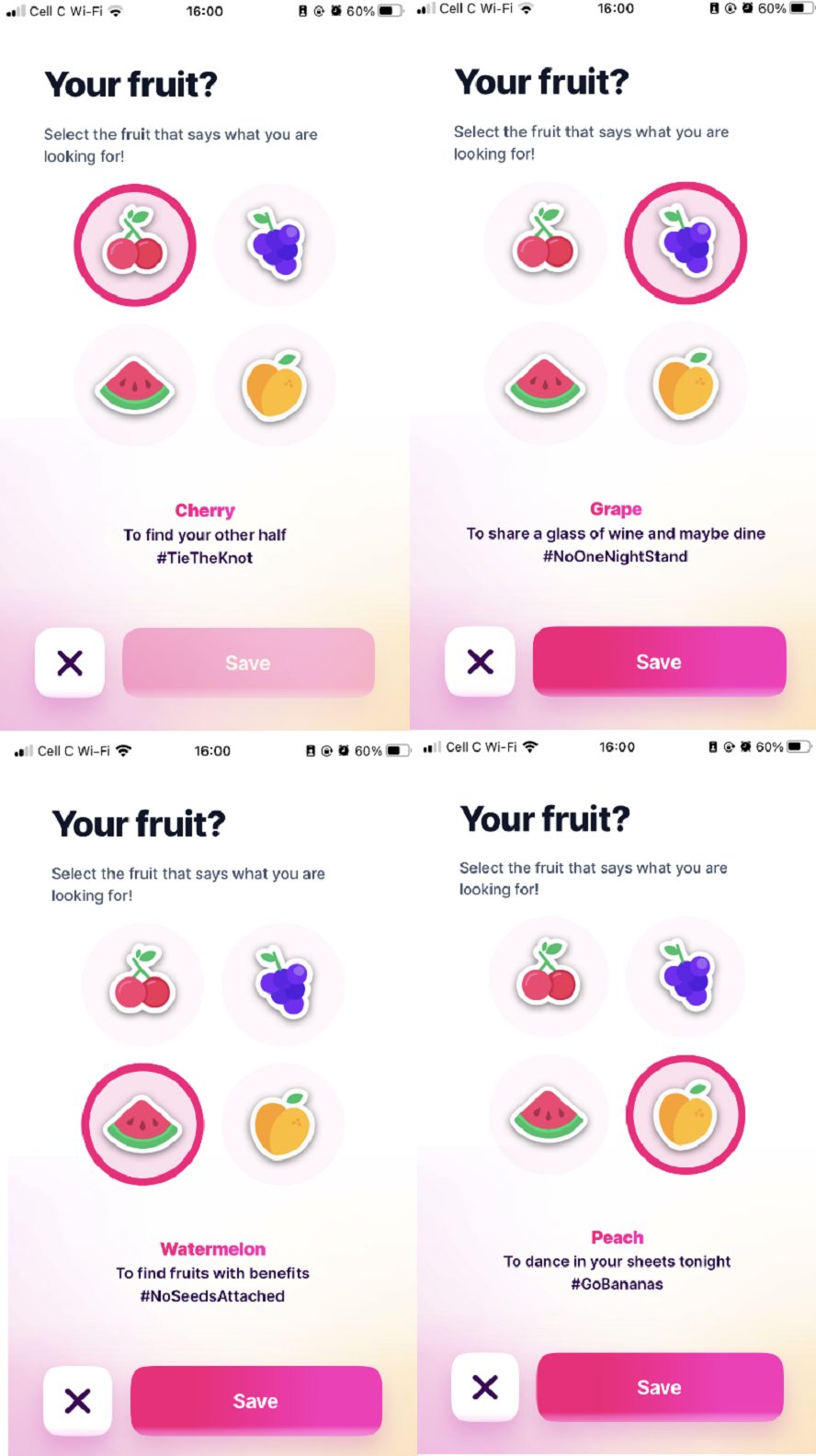 Member Quality and Activity
In our region, there weren't an awful lot of members, but among the members, we found there was decent quality.
About half the members had taken the time to fill out their profiles with bios and so forth. The other half only uploaded photos.
We did get likes and it was easy to see if we wanted to chat with them based on what they were looking for (their fruit).
We didn't find any profiles that looked fake, but then people who only upload a photo could be anyone…
We weren't bombarded by messages from bots, which is reassuring.
How Much Did It Cost?
We used the free version of the app, but if we continue to use it we might just decide to upgrade.
Fruitz Premium costs $10.99 per month while the Fruitz Golden package sets you back $26.99 per month.
Premium gives you unlimited likes, "pollen" to boost your profile, and daily crushnotes.
Golden gives you everything Premium does, as well as the ability to filter by fruits (i.e. what kind of relationship people are after), and the option to see who has already liked you.
In other words, you don't have to sit swiping for ages to find your matches. They also promise new features if you're a Golden member.
If you don't want to pay for full membership, you can still choose to buy a profile boost a.k.a. pollen as a one-off for $3.99.
You can furthermore buy the rewind feature–so that you can go back to the profiles you've accidentally swiped left on. That will cost you $5.99.
Are There Any Alternatives to Fruitz?
There sure are! The most obvious is Bumble as they bought up Fruitz already to target a younger demographic.
POF and Zoosk are other good options if you're looking for more traditional dating sites (they aren't hookup-focused, but you certainly can find hookups on there!).
However, if you're purely looking for hookups or something more particular, then try the following sites:
You can find many other alternatives in our list of the best adult dating sites!
Common Questions About Fruitz
Is it possible to find hookups on Fruitz?
Absolutely. Just choose the peach (it signals you want one-night stands) or watermelon (it signals you want to meet friends with benefits) and get swiping!
How does the Fruitz app work?
Fruitz is similar to apps like Bumble and Tinder – you swipe right and left on potential matches.
The difference is that you choose a fruit to symbolize what you're after (a serious relationship, friends with benefits, hookups, etc.).
There are also a few other features, like icebreaker questions called crushnotes.
Are the profiles on Fruitz real?
As far as we could tell, the majority of profiles on Fruitz are real and we didn't receive any spam messages so that was also reassuring.
However, there are fake profiles on every dating/hookup site and Fruitz isn't an exception.
How much does Fruitz cost?
Standard membership is free. For unlimited likes, a boosted profile, the ability to see who has already liked you, icebreaker questions, etc. you have to upgrade your plan with memberships starting at $10.99/month.
Is Fruitz safe to use?
Yes (they are owned by Bumble), but they do not verify your ID, so beware there are bound to be some people pretending to be who they are not.