How To Find Trans Women On Tinder: 7 Proven Tips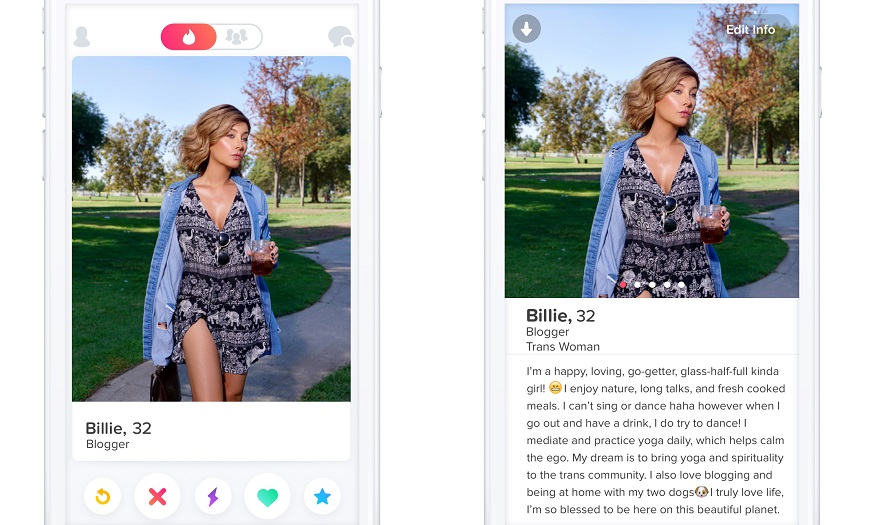 Tinder is one of the most popular dating and hook up platform in the world for straight people.
And surely you had your fair share of dates and hookups on the app over the years.
Yet, there are several men wondering if it's possible to find transgender on Tinder. The short answer: Yes, it's possible. However, it shouldn't be your first choice.
So, before giving you 7 proven tips to find trans women on Tinder, we'll show you a much easier alternative to date or hook up with trans women.
Is Tinder the Best Way to Search for Transgender Women?
Despite its popularity in the dating and hook up scene, Tinder unfortunately isn't the best way to search for transgender women.
There are several reports showing Trans people have been banned from Tinder over the years after being flagged by cisgender members. In other words, Tinder has a reputation for not being trans-friendly.
This article by Bustle talks about this issue in detail and the problems that the trans community had to face on the platform.
Although the team of Tinder in 2019 has taken steps to make amends by adding more gender options, the damage has already been done. In fact, a large number of transgender do not use Tinder nowadays.
So, where do they hang out for dating and hookups? Obviously on trans dating apps and sites.
There you'll find plenty of trans women and you won't double guess their gender. Simply because there are no CIS women unless they are lesbians.
With that said, if you're still eager to learn how to find trans women on Tinder, then the next section will cover that in detail.
7 Tips to Find Trans on Tinder
1. Create a Trans Friendly Profile
The main reason why it's difficult to find trans women on Tinder is that they feel unsafe. So the first step is to make a trans-friendly Tinder profile.
The best way to do that is by adding an LGBT-friendly filter on the pictures that you upload on Tinder.
Similarly, you could throw in a couple of rainbow emojis in your bio to support gender diversity.
All of this will help you make an initial good impression on the trans folks. But most importantly, it would show that you're open-minded and interested in them.
2. Make It Clear in your Bio
Transgender women feel reluctant to approach men on Tinder. That's because they aren't sure if they'd be into them.
This is where your Tinder bio comes in. It will play a major role in helping you connect with trans women.
We already mentioned that you should add a few rainbow emojis to show that support gender diversity.
However, that alone won't be enough to show your interest. That is why explicitly mention in your Tinder bio that you're trying to find trans women.
Keep in mind that you need to choose your words carefully.
Don't directly write that you're looking for hookups as that may make trans women feel fetishized. We'll touch more on that in a bit.
And also don't use words like tranny or shemale. That's offensive.
3. Edit your Gender Preferences
Wondering what gender preferences you should set on Tinder to find more trans matches?
Well, you don't have to do anything different. If you're trying to find trans women, then simply check the box that you're interested in "women".
As already explained in the "how to meet transgender women" article, the only thing trans women want is to be well…treated like a woman.
So you don't have to search for any special settings on your Tinder profile.
4. Don't Make it Look Like a Fetish
The trans folks hate being fetishized, and honestly, who wouldn't?
So don't explicitly write on your profile that you're trying to "hook up with trans women". This type of bio may suggest that you're just after a fantasy to have sex with a trans.
Instead, be normal about it and write how you're simply looking for trans women to mingle with.
keep in mind that the most important rule when trying to hook with transgenders is don't show signs that you're fetishizing them.
5. Carry the Conversation Normally
You don't have to offer trans women any special treatment. Flirting with them on Tinder is the same as flirting with a girl over text.
So carry the conversation normally, regardless of who you're talking to. Some trans women would tell you off the bat that they're trans, while others, would take their time.
Yet, most prefer you get to know them for being a woman first.
So don't jump in with questions like "are you trans?" If you're actually talking to a trans woman, then this question may tick her off.
This is why you need a lot of patience if you're trying to find trans women on Tinder. The platform is dominated by cis people, and unless you're being directly told, there's no way for you to find out.
6. Learn More About Transgender
There's a chance that you might match with trans women, but wouldn't actually know about it.
Trans women don't easily open up on the platform until they aren't sure it's worth their time. They may even try testing your knowledge about the trans community.
So do your homework and learn the basics prior to hopping on the platform. This would show that you're making an effort to know more about them.
At the same time, this also reduces the likelihood that they'd have to answer weird questions like "Do you have a penis?" that cis people often ask.
6. Accept a Wide Variety of Matches
The majority of the members on Tinder are cis people. So don't be surprised if you aren't able to connect with a trans woman on your first day.
And as we mentioned that, you might match with a trans woman, but wouldn't actually know about it.
So your best bet is to swipe right to a wide variety of matches. Talk to as many women as possible, because you never know which of them may be trans.
If you're lucky, then one of them may directly have it written in their bio. However, that's highly unlikely due to the history of the platform.
How to Flirt with Trans Women on Tinder
We've already talked about how to flirt with trans women in detail.
But in a nutshell, whether you're interacting with trans women online or in real life, flirt with them the same way you'd flirt with cis women.
Similarly, don't enquire about their surgery or ask other weird questions. And like every other human, treat them with respect and as equals.
All of these are just basic etiquettes, but usually, it's enough to even help you score a hook up on Tinder
RELATED ARTICLES