CasualSexOnly Review: We Tested It For 1 Month To Find Out
CasualSexOnly, as the name suggests, is a site for people looking for quick flings.
It is open to all kinds of users including males, females, and transsexuals.
The site is designed to feel like a social media platform for hookups – which is certainly a breath of fresh air.
And while registration on CasualSexOnly is free, most of its features require a paid subscription.
Now whether that's worth it or not is up for debate because the platform has a rather shady reputation.
That's the reason we decided to take matters into our own hands.
If you're wondering what our verdict is after using the site for 1 month, then read this detailed CasualSexOnly review to find out.
–
Founded: 2020
Site Address: www.casualsexonly.com
Rating: 5/10
Estimate Number Of Users: not mentioned
Popular Age: 20-34
Active Audience: 45%
Fraud & Scammers: many
–
Why Do We Think CasualSexOnly Is a Scam?
If you're looking for a quick answer on whether CasualSexOnly is worth your time and money – then it's a big NO.
Don't get us wrong, the concept of the site is great. it works like a social media platform where you can leave likes, comments and whatnot.
But unfortunately, that isn't enough to address the following issues on the platform:
Fake Messages Left and Right
The problem with CasualSexOnly is not that the site doesn't function, they'll sell your data, or that there's a hitch with their payment method.
No, all that works.
The problem is that there are fake members using the site – ones that appear to have been hired by the company to lure new members to sign up.
As you join the site, you get messages from "members" and you can only respond to them after buying the membership.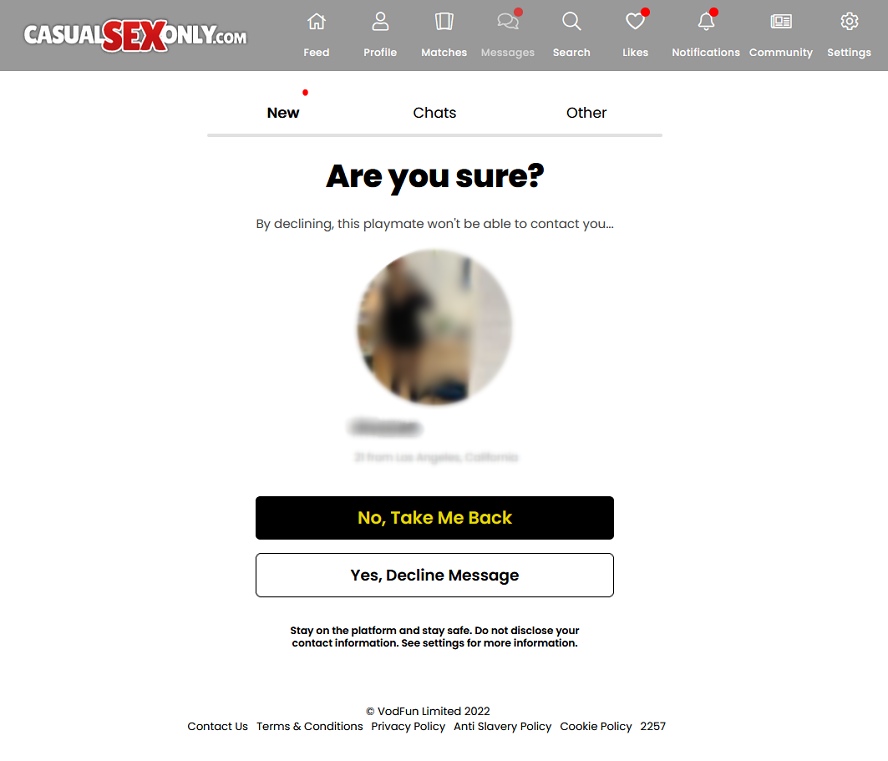 Once you've signed up for a membership, these members no longer respond to you. Or they only respond until you show a desire to meet up in real life–then they disappear.
Every Other Member Seems Shady
There are also plenty of reports from previous members who say scammers are using the site.
These members chat with you, then try to lure you over to some other site for more chatting – which is also a scam.
If not that, then they'll blatantly ask you for money to fly to meet you, or ask for money to cover an emergency of theirs.
This video explains most scams out there if you want to dig dipper:
Privacy Can Be a Concern
Another issue is that the owner is VodFun, a company that owns this and several other dating sites. That's a problem because their terms and conditions say that your account will be linked to all these sites.
That's great as more people will be able to view your profile and connect with you. It's horrible if you consider that you have absolutely no control when it comes to who sees your profile.
While the site works, technically speaking, and has real members using it, it's not worth signing up as you have a high possibility of encountering fake profiles and scammers on the site.
You're better off on a site where this is a rarity instead of a guarantee (more or less).
Best CasualSexOnly Alternatives to Try
We aren't saying that finding a hookup on CasualSexOnly is impossible, but given the number of fake profiles, it certainly isn't the best place to try.
That's why let's go over a few alternatives that you can use instead:
Looking for more alternatives? Check out our list of the best adult dating sites.
Full CasualSexOnly Review
It should be pretty clear by now that CasualSexOnly is nowhere near being the best hookup site because:
The fake profiles/bots entice users to pay for a membership and then disappear.
The number of scammers that appear to be using the site.
On the upside, you can choose to only interact with verified members and there are some nice touches, like the ability to create private photo albums.
You can also message members (once you pay for a membership), do video calls, join group chats, and find lists of sex parties around the globe.
The profile quality isn't the best–as everyone wants to cut to the chase and get laid. But then again, it's a hookup site so that doesn't come as a surprise.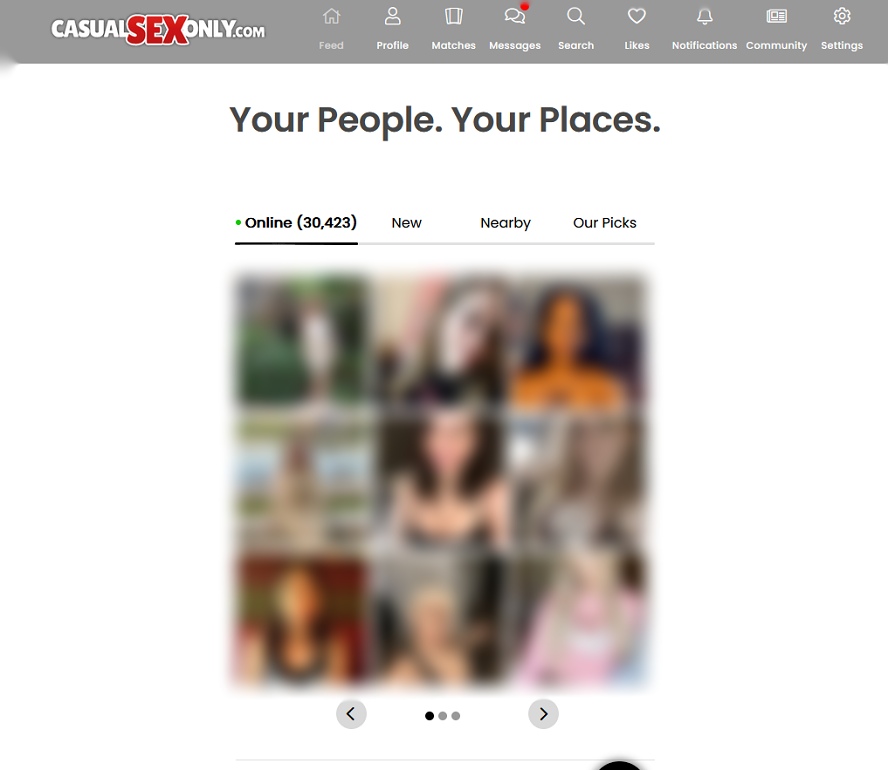 CasualSexOnly does not offer an app either, but it will work on your mobile browser.
Our Experience
From what we've seen of CasualSexOnly it's not the best site for finding a hookup. While you may get a lot of messages just after signing up (to entice you to join the site), you soon run out of members near you.
And, those first messages seem to have come from members that conveniently disappear after you've joined the site, or they only string you along until you want to meet up. Then they are gone.
This is a tactic used by several dodgy dating sites – they wish to engage members in conversation with fake profiles.
It's to keep them on the site and pay for a membership – which as you can see, is quite expensive:
But at least the payments are legit, but be careful because the memberships auto-renew. Meaning that to avoid getting charged when your membership expires, you'll have to manually cancel your subscription.
What Do Other Users Have to Say?
Looks like we aren't the only ones on the site who had a sloppy experience. Most reviews of users we found online haven't had a pleasant experience either.
Here's what some of them have to say:
"Had one hookup in 2 months. A lot of scammers and bots on there. Not worth the subscription at all. Read the subscription carefully as fooled me into paying for a year when I thought only for a month. Partial refund only. Got ripped off. Stay well clear is my advice." (Source.)
"Yeah, I used casualsexonly.com before. Not anymore though. I tried out all of the other popular dating apps and I've had the most luck on Tinder and POF for dating and relationships and Adult Friend Finder has been the best for finding hookups." (Source.)
"This site is absolutely terrible! I called and complained about all the scammers! They told me to use safe mode. Guess what? Still the same crap. How does that work!? This site is garbage! I suggest using image search to look up the pictures they send you. Every single person was a scammer!" (Source.)
Judging by these reviews, it appears that most users had an issue with the quality of profiles and the lack of transparency in their payment plans.
These are of course, some major red flags and problems that simply cannot be ignored.
FAQs About Casual Sex Only
Can you really hook up on CasualSexOnly?
It's possible to hookup on CasualSexOnly but it's quite difficult because of the high number of fake profiles on the site.
Is CasualSexOnly a legit site?
The site itself is legit, but we cannot say the same for its members. Most of the members on the site seem fake.
Can you use CasualSexOnly for free?
You can sign up for free and browse the site, but you cannot communicate properly with other members unless you sign up for a membership.
How many users does CasualSexOnly have?
This information is not available, but it's definitely not even close to a large site like Adult Friend Finder or Tinder.
How do you cancel your CasualSexOnly subscription?
You can cancel your CasualSexOnly subscription by following these steps:
Open the Settings menu from the top right side of your screen.
Hover to membership options.
Click on "Cancel Automatic Billing Renewal Request Form" to request a termination of your subscription.
You can also get the help of customer service to do the same.
How much does CasualSexOnly cost?
The price range from $17.24 to $35.96/month depending on the subscription length.