Brazil Hook Up Guide For Singles And Couples
If you would like to get laid in Brazil and have memorable sex experiences, this guide helps single and couples to hook up.
No matter your age, sexual interests, or type of relationship you're after, there is something for everyone.
From one night stand to find a regular fuck buddy to join sex parties, there are several opportunities to have sex in Brazil.
The Brazil Guide was last updated on 5 May 2021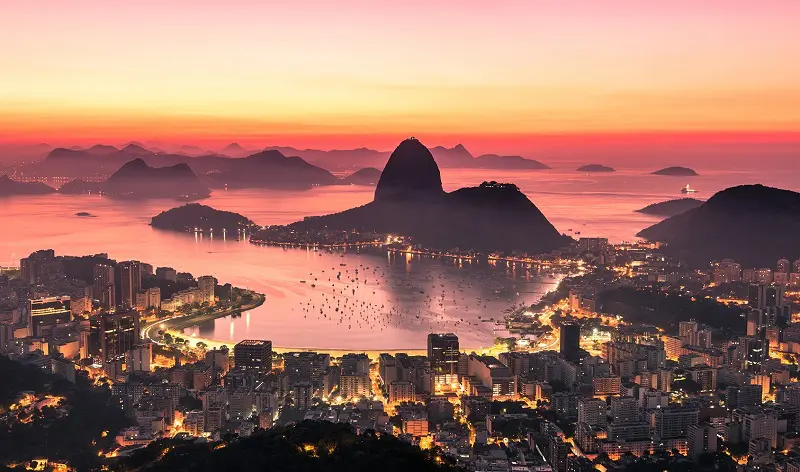 Brazil is a popular tourist destination in South America. There are about 220 million people living in the country with a variety of physical differences.
When it comes to casual sex, Brazilians are friendly and open-minded forward foreigners. And because they love to party and dance sexy, it's easy to get turn on.
You'll find most opportunities to hook up at night in the nightlife areas and online all day long.
Singles have the upper hand in Brazil while couples have limited options if they enjoy the swinger lifestyle. Only the big cities have sex clubs but fortunately, polyamory apps can be handy to find partners.
Keep reading if you want to find out how to get laid in Brazil safely.
And don't hesitate to ask questions or write about your experiences in the form at the end of this guide.
–
• Number of Sex Clubs – 19 swinger clubs, 55 strip clubs, and 2 naturist resorts.
–
***
Contents
Click a link to skip to that section. Don't skip any sections!
***
Best Cities in Brazil To Get Laid
Top Brazilian destinations for casual sex and hookups
Girls in Brazil
Look, values and sexuality

Men in Brazil
Look, values and sexuality

Sex Life & Hook Up Culture
Casual sex, swinging activities and hooking up in Brazil
Where to Meet People For Casual Sex in Brazil
Hookups, sex dating, swinging, orgies, strip clubs, transgender and BDSM
Adult Hotels And Hostels
Best hostels for hookups and erotic hotels in Brazil
Safe Sex And Clinics
Play but stay safe
–
Best Cities to Get Laid in Brazil
Rio de Janeiro hookup guide – The party capital of Brazil where every neighborhood brims with life. Also a hotspot for tourists and one of the best Brazilian cities for swingers.
Sao Paulo hookup guide – Attracts tourists from around the globe for its cheap clubbing scene and growing hookup culture. Moreover, there's no shortage of adult entertainment venues in the city.
Curitiba hookup guide – You don't have to be a party-goer to get laid in Curitiba. The people are quite open to public sexual advances.
Recife hookup guide – The people here are highly enthusiastic about dancing. If you know how to dance or show a willingness to learn, it won't take time for you to find a casual hookup.
Manaus hookup guide – Famous for its tourist attractions and greenery as it's located at the heart of the Amazon Rainforest.
Girls in Brazil
Famous for their hot and toned bodies, you'll have an easy time getting close to the kind and pretty Brazilian girls.

Look And Physical Appearance
Brazilian girls have a mix of European parentage. They have all kinds of eye colors, but most have brown. They tend to have dark hair as well.
Besides that, they have shapely frames due to their large assets, such as full round breasts and huge but firm asses. They're also a bit small at 5'2-5'3.
On the whole, they're chic and keep up with trends. Hence, city girls are always in style, while provincial ladies are more into casual wear.

Attitude And Values
Generally, girls in Brazil have an outgoing and optimistic nature. As a matter of fact, they're so open that it's normal for them to chat with strangers.
Although they're the emotional type, they have an easy-going outlook on life. It's why they can deal with any issue with a smile on their faces.
Another key point is that they're not stiff about dating. With this in mind, they enjoy hook ups and flings. But those from the countryside are more into long-term relationships.

Sexuality
The girls in Brazil have sex lives soon after they turn into teens. This study proves it as 55.2% of 16-19 year old girls are sexually active.
But they do what they can to not get pregnant as reported in this study saying that 77.58% of 16-24 year old girls use a contraceptive method when having sex.
In any case, most young ladies in Brazil get into sex by the time they're in high school. What's more, they're careful about it since they don't want to get knocked up.

Summary of Brazil Girls
3 traits: Women in Brazil are outgoing, optimistic, and emotional.
2 tips: To charm Brazilian girls, be polite, and be confident cause they like men who take the lead.
1 fact: Most girls in Brazil are always late.
Men in Brazil
Even if they're macho, Brazilian men have a loving nature that ladies will have fun with, especially in bed.

Look and Physical Appearance
Though most of them have dark hair, lots of men in Brazil have European genes. Aside from that, their eyes are brown, but some have light ones.
They usually have firm and buff bodies too. Yet they're a tad below the average size since they're around 5'6-5'8 tall.
Be that as it may, they're stylish and know how to look good in popular outfits. Meanwhile, the guys from the countryside go for simple looks.

Attitude and Values
Brazilian guys are known to be lively and sporty. As a result, they're great dancers and are good at sports like soccer, surfing, and jiu-jitsu.
They're also romantic and are big flirts cause they say and show what they feel. On that note, it's the norm for them to be touchy and like PDA.
They go about their love lives with a relaxed view, so they have easy sex through flings and the like. But even if they're open, they quickly get into relationships.

Sexuality
Brazilian men are bold when it comes to sex since 69.57% of them have had vaginal and other types of sex.
Apart from that, 69.9% of guys used a rubber the last time they had sex, based on this study. It points out that they don't want to have any trouble since they use protection.
That is to say, guys in Brazil are wild sex partners since they try out all sorts of things in bed. Furthermore, they stay safe as they fuck with protection.

Summary of Brazil Men
3 traits: Brazilian guys are energetic, sporty, and romantic.
2 tips: To appeal to men in Brazil, be confident and flirty but not too much since they enjoy the chase.
1 fact: Brazilian men live with their families until they marry.
Sex Life And Hookup Culture
Salon's article puts Brazil as the 4th most sexually satisfied country in the world. It's cause the locals regularly have sex 1 to 3 times a week.

Overall Mindset About Casual Sex
Brazilians have a welcoming attitude about sex, which in turn makes getting laid casually typical for them.
Now, both men and women are just as loose here, whether they're single or not, cause they love to fuck a lot.

Swinger Activities in Brazil
Given that Brazil thinks positively of sex, the swinging scene here is common. The big cities are likely to have at least a few swinger clubs.
Sao Paulo and Rio de Janeiro have the largest number of clubs. A couple of the clubs' standard features are stripper shows, dance floors, playrooms, and pools.
You have to be a member to enter some of the clubs, but others only need you to pay for the entrance fee. The entrance fee for a person is roughly R$30-200.

Is It Easy To Hook Up in Brazil?
Seeing that their culture accepts sex, Brazil is without a doubt one of the easiest places to hook up for people all over the world.
As long as you're polite, you're sure to pick up someone fast. You should also learn some Portuguese to lessen the language barrier.
Where to Meet People For Sex in Brazil
Wondering how you can make your stay memorable in a country that oozes with sexuality?
Let's explore the best places and ways to get laid in Brazil…

1. Sex Dating Online
Online dating is quite common in Brasil – and so are online hookups.
If you prefer the latter, then don't waste your time on Tinder or Bumble because Adult Friend Finder is just what you need.
Sign-up and in no time, your DMs will be full of horny singles and couples ready to fuck.

2. Night Hookups in Nightclubs and Bars
During the night, finding casual hookups in Brazil is quite straightforward as the majority of the cities have thrilling nightlife.
Yet, Rio de Janeiro is light-years ahead of other cities as every neighborhood offers a party atmosphere.
Start by going to the world-famous neighborhood – Copacabana. There are endless bars and nightclubs in the area full of singles who're searching for friends with benefits.
Similarly, Lapa District is also famous for its diverse crowd and captivating night-time venues where you can dance, drink and hook up.
The only other Brazilian city that even comes close to the intense nightlife of Rio de Janeiro is Sao Paulo.
In particular, the cheap clubbing scene there makes it a hub for tourists. And also, lets it stand out in comparison to other Brazilian cities.
But let's not forget about the promiscuous locals who are always open to sexual advances.
Book a room in one of its best nightlife districts, Pinheiros, head to the nightclubs that are swarming with horny people in their 20s.
Alternatively, if you want a more mature hookup partner, visit Centro instead.
And if you're not a party-goer then the thrilling street game of Curitiba may just be what you need.
Unlike some other cities where picking up strangers may be awkward, that isn't the case in Curitiba as everyone is used to it.
This applies even more in areas like Batel, Itupava Street and Sao Francisco.
Lastly, if you have great dancing skills or at least, the willingness to learn then Recife will be a paradise for you.
The people there love to dance. And while doing so, they're very open to kissing to create a better "connection" with their dance partner.

3. Everyday Life Situations
The daytime game in Brazil is all about being confident. The locals are quite receptive to flirting and you just have to take the initiative.
It's even safe to say that in cities like Rio de Janeiro if you like someone, let them know.
If things go well, within 15 minutes, you'd be making out.
Want to experiment? Simply head to Copacabana Beach as it is one of the best places to meet singles in the city.
The daytime game in Sao Paulo is quite similar, except, you have to be at the right place at the right time.
Commercial areas like Paulista Avenue can be a great starting point. They're crowded during the day and you'll find a mix of both locals and tourist to pick up.
And if you're in a busy city like Manaus, don't worry. You can still find people who'd be willing to take out some time for a quick session.
It is a beach city, so what better place would there be for you to find some action than Ponta Negra Beach?
Alternatively, if you're a foreigner scouring for holiday romance then you cannot go wrong with Curitiba.
Not many foreigners visit the city, so the locals are always curious to know more about them.
In a nutshell, you can visit the following places in Brazil to find the best daytime game:
Gyms
Beaches
Parks
Art Galleries
Lastly, if you know how to speak a little bit of Portuguese, then that too can astronomically increase your chances to find daytime hookups.

4. Sex Clubs: Swinging And Sex Parties in Brazil
Brazilians are known for being highly sexual and they're not afraid of experimenting in their sex lives.
Yet, the key to finding sex clubs in Brazil is to visit tourist-centric cities.
If you're searching for the best swinger clubs in Brazil, then without any second thoughts visit Sao Paulo.
You'd be surprised to see the number of swinger clubs you'd find in the city.
Similarly, Rio de Janeiro is also known for its very sexual culture. So it shouldn't be surprising that you'll find a variety of lifestyle clubs there as well.
And don't forget to join a hook up app for couples to meet like-minded people.

5. BDSM in Brazil
While there aren't any exclusive fetish clubs in Brazil, you'll come across many private dominatrices whom you can hire to play with.
Alternatively, the locals are also open to exploring all sorts of kinks, especially in wilder cities like Rio de Janeiro and Sao Paulo.
Sign up on sites like Alt.com and within no time, you'll find a BDSM lover near you.

6. Transsexual And Transgenders
Want to hook up with trans? You can find them in most Brazilian cities.
Although there aren't many exclusive venues for trans in Brazil, you'd often find them partying in LGBT-friendly bars and clubs.
You can further check out our Brazilian city sex guides to know more about where you can meet transgender in each city.
Alternatively, you can also simply sign up on trans hook up sites to find transsexuals near you.

7. Strip Clubs
Your experience in a gentleman club in Brazil may differ depending on the city you're staying in.
For instance, if you always wanted a lap dance by a sexy Brazilian girl then Rio de Janeiro will offer you the most variety.
You'll find all sorts of strip clubs in the city and most of them will be filled with tourists.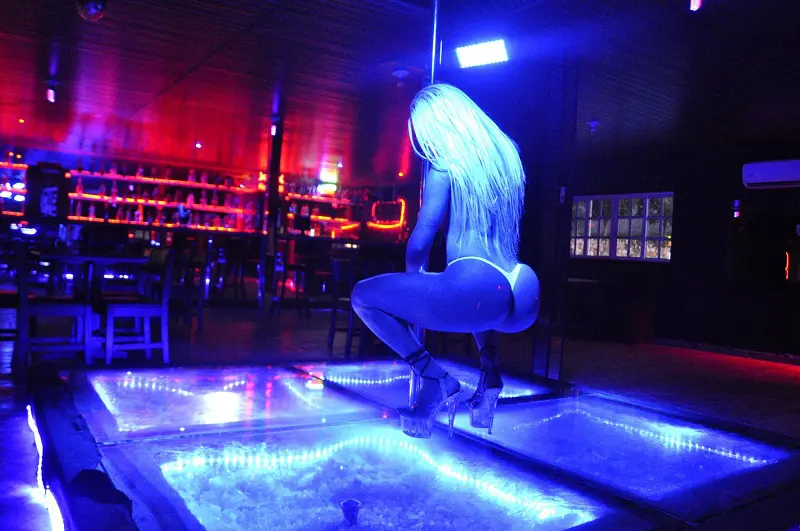 On the other hand, the strippers in Sao Paulo do not just come to the stage to flaunt their sexy bodies.
They know what they're doing and if you want to have a truly entertaining bachelor's night, then you cannot go wrong.
Meanwhile, Curitiba strip clubs are passable for a traditional bachelor's night but don't expect them to be on par with the cities above.
Lastly, stay on your guard if you're in Manaus. Most strip joints there are low-end and sleazy.
Adult Hotels And Hostels
On average, the price for one person accommodation in Brazilian hotels is $25.
While hostels tend to be much cheaper and on average they charge $10.
Keeping in mind how easy it is to find casual sex in Brazil, you don't want to book a room too far from its nightlife areas.
After all, driving all the way back can be a mood killer.
Want to know more about the best adult hotels and hostels in Brazil? Check out our city hook up guides in Brazil.
Safe Sex And Clinics
More than 900,000 people in Brazil are living with sexual health problems.
While some government clinics may provide free testing, others charge a hefty fee.
Buying a pack of condoms can help you avoid most of your problems and make sex both safe and enjoyable.
In case you want to get yourself checked, find the best STD clinics in our Brazilian sex guides.
This ends the Brazil sex guide. Enjoy hooking up in the city.