Phoenix Hook Up Guide For Singles And Couples
If you're after casual sex in Phoenix or looking for a friend with benefits, this guide will help you to get laid.
We'll show you how to hook up with couples and singles no matter your sexual interests, age, or type of relationship you want.
From one night stands to find a regular fuck buddy, there are several opportunities for hookups in Phoenix.
The Phoenix Guide was last updated on 21 January 2021
Phoenix with 1.6 million residents, it is the most populous city in Arizona and the fifth in the USA.
The capital of Arizona caters to a diverse crowd and offers plenty of chances to find hookups. There are several nightlife areas like downtown and the nearby town Scottsdale but also an active online community of singles looking for casual sex on hookup apps and sites.
For couples, not so many sex clubs available to go for some swinging action but plenty of sex parties organized in the hotel's room and private residences.

–
• Gender Ratio: women vs men – There are more women than men in Phoenix and the ratio is 98 men vs 100 women against the Arizona gender ratio of 99 men to 100 women.
• Etnichy – 42.3% Caucasian, 34,5% Hispanic, 6.3% Black/African American, 3.9% Asian, and 13% Some Other Race.
• Number of Sex Clubs – 2 swinger clubs, 8 strip clubs and 0 BDSM clubs.
–
***
Contents
Click a link to skip to that section. Don't skip any sections!
***
Girls in Phoenix
Look, values and sexuality

Men in Phoenix
Look, values and sexuality

Sex Life & Hook Up Culture
Casual sex, swinging activities and hooking up in Phoenix
Where to Meet People For Casual Sex in Phoenix
Hookups, sex dating, swinging, orgies, strip clubs, transgender and BDSM
Best Places For Outdoor Sex
Do you have a fetish for dogging, public sex or voyeurism?
Adult Hotels And Hostels
Best hostels for hookups and erotic hotels in Phoenix
Safe Sex And Clinics
Play but stay safe
–
Girls in Phoenix
You'll spot many beautiful women in Phoenix from Caucasian to White Non-Hispanic, and African American backgrounds.

Look And Physical Appearance
Caucasian girls in Phoenix have dark blonde to medium brown hair, light brown eyes, slightly meaty figures, and are 5'4 tall.
However, Latinas have curvier and smaller figures, with dark brown to black hair and typically brown-black eyes. As for the Black ladies, they're big-boned but sexy and tall as well.
And seeing that it's a hot city, the girls choose comfy clothes than fashionable ones.

Attitude And Values
Most Phoenix women are nature lovers and usually enjoy sports during their downtime. Moreover, they're also friendly and easy to talk to.
Besides that, you'll find that many of them are sheltered rich girls who only want to have fun. These kinds of girls don't work and just rely on their parents.
Even if some want to date seriously, the majority prefer to simply enjoy their lives without worrying about relationships.

Sexuality
As stated by the Youth Risk Behavior Survey, a considerable number of Phoenix girls start having sex between 13-19. To be specific, 37.6% of high school students ever had sex.
Their early experience leads to practicing safe sex cause this article says the teen birth rate is just 26.2 births per 1,000 females ages 15-19.
In light of the details, it can be said that the young girls in Phoenix are loose with sex, but they are responsible.

Summary of Phoenix Girls
3 traits: Girls in Phoenix are easy to talk to, dependent, and love nature.
2 tips: To appeal to Phoenix women, be charming by talking about interesting topics such as sports, hobbies, or technology, and act like a gentleman.
1 fact: Many girls in Phoenix enjoy going on outdoor dates like hiking or camping.
Men in Phoenix
Phoenix men enjoy casual relationships and flake women who are clingy.

Look and Physical Appearance
Considering their heritage, the majority of Phoenix men are generally tall with fit-beefy physiques, sandy blonde or brown hair, and brown to hazel eyes.
Then there are Latinos who are shorter in height while having solid builds with darker hair and eyes. While Blacks guys are big with buff bodies and black-colored eyes.
When they all dress up, though, they equally prefer lightweight and breathable clothes.

Attitude and Values
Phoenix guys are risk-takers and take chances when it can help them. As such, they're brave when they need to make tough decisions.
Although they tend to brag and be snobby, it's cause they're proud of their achievements. Even the small wins matter to them.
On the other hand, they're not into serious relationships, especially young professionals. This is why they'll only stick around as long as the relationship is fun.

Sexuality
Almost half of Phoenix men become sexually active in high school since the CDC study declares that 41.4% of 12-19-year-olds ever had sex.
Due to loads of them having sex early in life, it's not unusual then that 10.6% of high school boys had sex with four or more persons.
Yet many don't practice safe sex cause this report on sexually transmitted disease notes that 53% of STD cases are people around 10-24 years old.
Given these points, it looks like the young males in Phoenix are hungry for casual sex to the point where they don't care about protection anymore.

Summary of Phoenix Men
3 traits: Phoenix guys are risk-takers, brave, and snobby.
2 tips: To get the attention of men in Phoenix, let them talk about themselves and compliment them.
1 fact: Men in Phoenix avoid getting in serious relationships and regularly ghost girls that get too clingy or serious.
Sex Life And Hookup Culture
All in all, Phoenix's locals have a hard time committing, so they accept and welcome the hook up culture.

Overall Mindset About Casual Sex
Having casual sex is pretty normal and regular for the people here.
While most of the young guys and girls don't want to date seriously, the older generation goes for affairs or swinging activities with their partner.

Swinger Activities in Phoenix
Presently Phoenix has 2 on-premise swinger clubs, but to be honest the clubs are a bust. You are better off finding someone online as there are many active groups and communities online on swinger sites that host secret parties.
For privacy purposes, guests have to join as a member before entering most of the clubs, with membership price starting at $25 per person.
Meanwhile, the door fee varies but is roughly $10-50 for events like the Sexy Bunny Party, Wet T-shirt Contest, and Couples Only party.
On top of that, some clubs don't serve alcohol at all. Instead, they have juice and snack bars, DJs, and other features.

Is It Easy To Hook Up in Phoenix?
The men and women in Phoenix hook up easily and the same goes for couples that are into threesomes. In short, anyone who tries can get laid.
Where to Meet People For Sex in Phoenix
The city offers a lot for singles looking for one night stand but also fuck buddy type of relationships. While couples have a strong online community of like-minded people.
Let's explore some of the best places to get laid in Phoenix…

1. Sex Dating Online
Online hookups are the norm in Phoenix, and there's no better way to begin than by using sites like Adult Friend Finder.
It is the largest sex dating platform, and the people using it are only there for one reason, sex. So you don't have to worry about formalities either.

2. Night Hookups in Nightclubs and Bars
Rather than crazy nightclubs, Phoenix is known more for its upscale bars where you can mingle with students and cougars. This is why if you're in the city for a party atmosphere, then you might feel a bit disappointed.
We recommend visiting the following bars and nightclubs in Phoenix:
• Char's Has the Blues – Located at N 7th Ave, an intimate nightclub famous for its R&B music and social atmosphere. Easy to strike a conversation with the diverse crowd here to find potential hook-ups.
• Blue Martini Bar – Located at High St, one of the best cougar bars in Phoenix. You can always find older women here looking to flirt with young hunks.
• Antro Nightclub – Located at W Glendale Ave, known for its upbeat music and neon lights, this modern dance club is perfect to meet a younger crowd.
• Valley Bar – Located at N Central Ave, a fun college barhaving a cocktail lounge, game room and plenty of young blood. Most people here are singles and in their 20s.
• Bitter & Twisted Cocktail – One of the best places in Phoenix Downtown, you can enjoy a social atmosphere with some of the finest cocktails in the U.S.
Phoenix is home to some of the best bars in the world but you wouldn't find nightclubs with top-class DJs.
The best nightlife area in Phoenix is E Washington Street in Downtown. It is jam-packed with bars and restaurants and appeals to a diverse crowd.
While some people prefer Old Town, you'll usually find locals there and during weekends, the area tends to get extremely crowded. But the bigger the crowd, the higher the chances to find casual hookups.
And if you want to mingle with a younger crowd, then there's no better place than the area near the Arizona State University campus.

3. Everyday Life Situations
While finding daytime hookups in Phoenix isn't easy, dressing well, smelling nice and having good social skills can increase your chances.
With that being said, areas like Roosevelt Row or Downtown Tempe are your best bet as they're packed with strollers, coffee shops and cafes.
Yet, if you're into students, then the area near the Arizona State University campus is the way to go… Or popular malls like High Street and Biltmore Fashion Park can easily help you connect with different people.
Lastly, do check out popular dance lesson clubs like Greater Phoenix as dancing can always be a great way to get intimate with strangers.

4. Sex Clubs: Swinging And Sex Parties in Phoenix
There aren't many swinger clubs in Phoenix, because as we mentioned, the city isn't really known for its clubbing scene.
With that said, Club Encounters is a nightclub located at Clarendon Avenue that caters to the swinger lifestyle and doesn't require a membership or reservation.
Your other option is Club Discretions located at North 27th Avenue that offers a relaxed environment for both couples and singles.
Alternatively, you'll have a better selection of Las Vegas Hook Up Guide For Singles And Couples swinger clubs in Las Vegas, so don't forget to check those out.

5. BDSM in Phoenix
The BDSM scene in Phoenix is quite lowkey, and people prefer exploring their kinks behind closed doors.
You won't find any dedicated BDSM clubs in Phoenix but private communities like The Gap host events from time to time so stay updated with their calendars.
Otherwise, online platforms like Alt.com can also be a great way to connect with a large community of bondage lovers.

6. Transsexual And Transgenders
If you want to meet trans in Phoenix, then one of the best areas is 7th Avenue or the nearby areas.
Cruisin'7th is a popular nightclub that hosts frequent drag shows and is known to be a hotspot for transsexuals to party.
Alternatively, The Rock is a cozy bar where you can grab drinks and food with Ts and actually smell what's cooking here.
If nothing else works out, then transsexual dating sites are an easy way to connect with trans in Phoenix.

7. Strip Clubs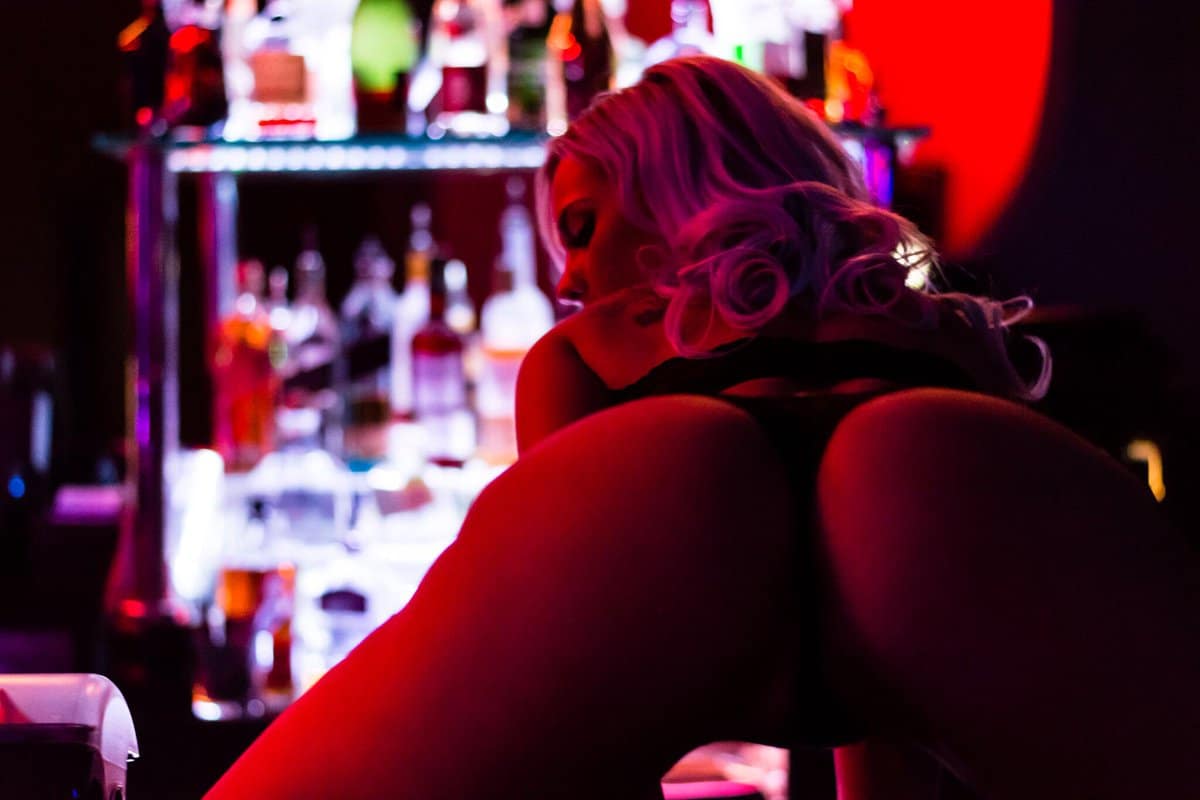 Phoenix has a decent selection of adult entertainment venues. Some of them offer free entrance, while others may require a small $5-10 cover fee.
Following are our recommendations for the best strip clubs in Phoenix:
• Le Girls Gentlemen's Club – Located at E Washington St, open 7 days a week, the beautiful dancers of this strip club will leave you mesmerized and keep you coming back for more.
• Cheetah's Gentlemen's Club – Located at 7th St, arguably one of the most popular strip clubs in Phoenix as they prioritize a good customer experience and house exotic dancers.
• Christie's Cabaret – Located at N 32nd Street, an elegant club that offers an erotic atmosphere. Perfect place to unwind the stress with the boys.
Best Places For Outdoor Sex
Having sex in the bedroom may be boring for the adventurous, and it's great to know where you can fuck around the city in case you want to go for a quick session.
If you want to have public sex in Phoenix, try the following hotspots:
• South Mountain Park – Hiking can be a fun experience and outdoor sex makes it even better. Just get a bit off trail and make sure to cover your tracks.
• Phoenix Zoo – The parking lot area of the zoo is packed with cars. Just find a good place to park at a corner and commence the deed.
• Windsor Beach – If you're in for a romantic road trip, then head to this beach. Go deep in the waters to avoid being seen and then go even deeper somewhere else.
• Papago Park – Stay off-trail and you'll find many secluded areas to satisfy your sexual urges.
For some reason, outdoor sex can feel more enthralling than doing it indoors.
Just make sure that you come prepared with blankets, lubes, and a bag to hide the "evidence" as outdoor sex is illegal in Phoenix.
Adult Hotels And Hostels
Phoenix has a laidback atmosphere, so if you're looking for hookups then stay at a place that's near its main nightlife area.
Your best bet is East Washington Street and here are our recommendations for the best hotels in Phoenix near that area:
Alternatively, staying in an adult hostel may help you score casual sex as well. So here are some party hostels in Phoenix you can crash at:
• Phoenix Hostel
• Metcalf Hostel
Safe Sex And Clinics
Unprotected sex is fun, but it comes with a fair share of risks and unwanted pregnancies.
If you are skeptical about your sexual health, then visit Maricopa County STD Clinic or Terros Health for fast and reliable check-ups.
This ends the Phoenix sex guide. Enjoy hooking up here.