Should You Text A Guy After A Hookup Or Wait?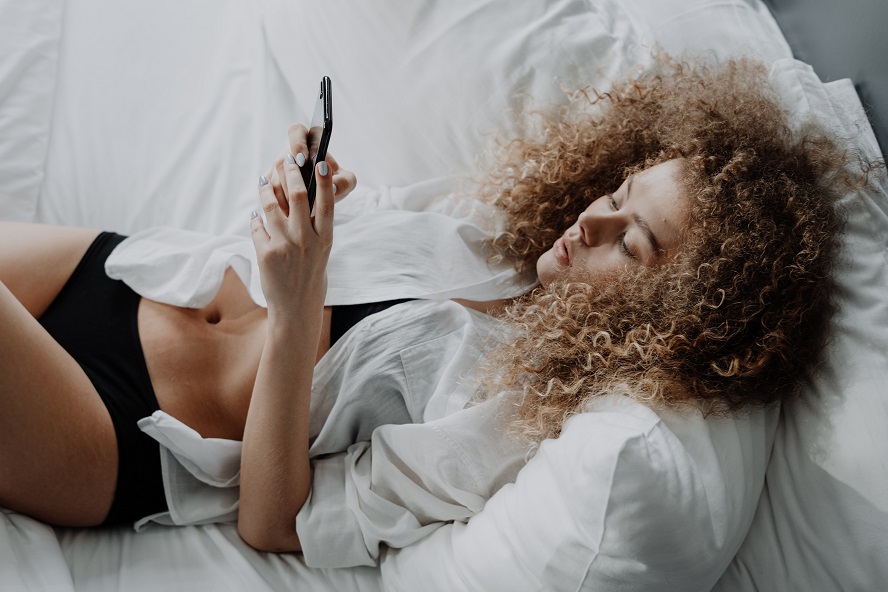 You just hooked up with a guy and are thinking of what to do.
Should I text him or wait? What type of message should I write?
Many girls think they lose power once they have sex with a guy. But the truth is your power is what you do after having sex with him.
So in this article, we'll explain not only how to maintain your power but actually how to make him want you more.
After clearing up your doubts about waiting to text a guy after a hook up, our list of message examples will make it easier to tell him what you feel and get him hooked up.
Is Waiting To Text After A Hookup Necessary?
Let's face the truth. As a girl, you'll definitely deal with double standards in everything, including sex and relationships.
Therefore it'll always be in your favor to hold back when it comes to sexual relationships.
In other words, yes, you should wait before you text a guy after hooking up. Sending him a message right after you go your separate ways will not only make you look clingy but desperate as well.
And that is a big no-no when you want to hold a man's interest in you. Not to mention, guys are generally more attracted to girls who aren't crazy for them.
Not only does it shows that you're independent but that your agenda is more important than him. That is power.
You don't have to wait a few days before you reach out. Even the next day is fine to text him.
What matters the most is what you text after a hook up that makes all the difference.
To make your life easier, we've put down 7 proven texts to send a guy after a hook up that will get him deeply interested in you.
What To Text A Guy After A Hook Up
1. I Had An Amazing Time With You. I Wouldn't Mind Doing It Again.
We totally agree with Mattew Hussey that your first text message after sex should be feminine and make you vulnerable.
And since men are always hungry for recognition, you can never go wrong in giving them compliments.
In light of this, sending a text that praises his bedroom skills after a hook up will certainly make him proud and eager to please you again.
This is a classy message that also serves as an indirect invitation with the way the sentence is phrased. It's ideal if you want to tell a guy you want to see him without being forward.
The appeal: You won't come off as aggressive or slutty with this text even though you're basically saying that you want to sleep with him again.
2. Thanks A Lot For Last Night. You Were Incredible.
Was the guy you were with into you? Or was he simply after sex?
If you didn't get a good read on him, then you should keep it short and sweet. You wouldn't want to freak him out by coming on too strongly, would you?
With that said, this text message should get your interest across after a hook up while putting the appropriate distance.
Furthermore, by clearly expressing your satisfaction, you're letting him know that you're interested
The appeal: This message is for girls who want to leave it up to the guys to make a move.
3. I Just Wanted To Let You Know I Enjoyed Last Night. Good Luck With Work Today.
We all know that men are drawn to warm and feminine girls. Also Lachlan Brown share this thought in this article.
For this reason, this is the sort of message that you should send after hooking up to make a good impression.
It's straightforward and shows that you care since you're wishing him 'good luck' on his day.
Aside from that, you'll earn brownie points by being honest with how you feel about him overall.
The appeal: You'll appear trustworthy since you're being frank and sweet to him.
4. I Hope You Had As Much Fun As I Did. Just Let Me Know If You Want To Meet Up Again.
Men hate it when they're put under pressure. Due to this, you'll be likable when you allow them to proceed with things at their own pace.
As such, sending this message will make you an attractive partner to a man, be it casual or not.
Cause firstly, you'll be telling him what a good job he did with you. And secondly, you'll be assuring him that you want to meet up again.
The appeal: Texting him this after a hookup will show that you respect him and won't be demanding, making you stand out from other girls.
5. Hey, I Had Fun. Just Hit Me Up If You're Up for A Repeat Of Last Night.
No matter how pretty you are or how great your skills in bed are, there isn't any guarantee that the man you had sex with will easily fall for you.
After all, it's pretty typical for guys to act weird after hooking up.
Now, should you ever be with this type of guy, this is the kind of message that you can send to him.
It's non-invasive and plainly conveys your intentions, making it perfect for the situation.
The appeal: Since this text sounds casual, it'll go well with men who aren't interested in women who take things too seriously.
6. Do You Know That You're A Beast In Bed? How About Doing It Again?
Did the guy you hooked up with have a big ego? Perhaps he takes pride in himself for being a manly man.
This works especially well for those men who are into fitness and competitions.
If that's the case, forwarding this text message after having sex will undoubtedly increase your chance of getting him to hook up again.
The thing is, men have a need to be special and wanted by women.
Thus giving him a huge compliment, such as being a beast in bed, will surely make him feel sexy and desirable.
The appeal: Men with a big ego want to be with girls who make them feel like they're a god.
7. Damn Boy. I Can't Stop Thinking About The Orgasms You Gave Me
If you don't mind being aggressive towards him, this is the text that you should send. It's also a great message to check out how he reacts to you.
The 'damn boy' strongly emphasizes how much you're into him and further reinforces your claim that he's good at sex.
It's essentially a message that states you're thirsting after him. Should he feel the same way about you, you'll be getting a reply from him soon.
The appeal: This text is a statement, not an invitation. Meaning it would be fine even if he doesn't reply.
RELATED ARTICLES