What 50 Year Old Women Want In Bed: 9 Things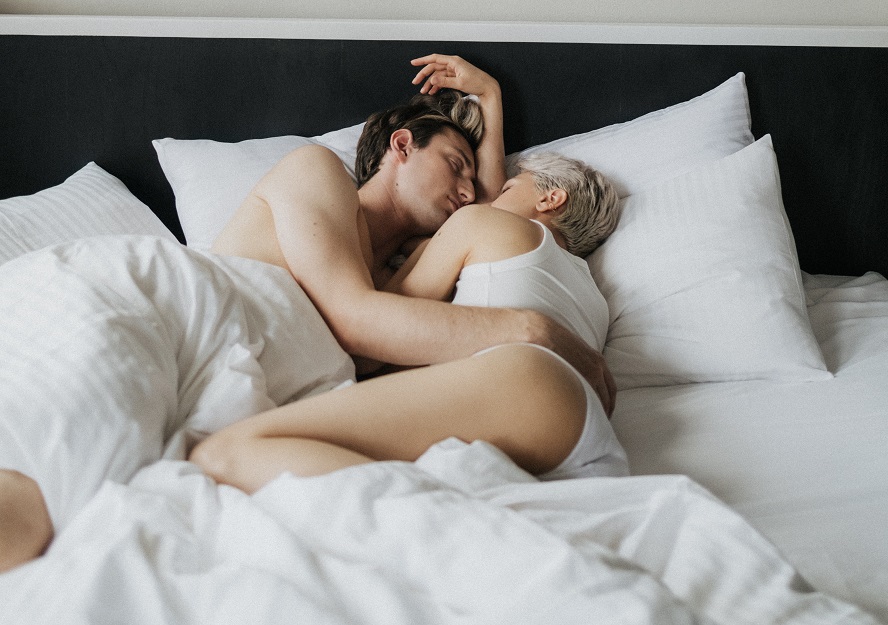 What do 50 year old women want in bed?
Of course, every woman has her own preferences when it comes to sex. But there are certain things that 50 year old women enjoy particularly.
And keep in mind that if you want to keep them interested in you, average sex isn't going to cut it.
Unlike younger women that let guys get away with a lot of things in bed, older women aren't as lenient. They know what a good performance is and can't tolerate mediocracy.
So, when you do get a chance, you better know what might please her, or you might not get a second chance.
This is why we've listed the 9 essential things you must know to make a woman in her 50s happy in the bedroom.
1. Longer Sex
Older women value the quality of sex more than quantity. As a result, they will mostly choose to have good sex over multiple mediocre rounds of sex.
When it happens, you're better to warm up your tongue and also stay hard for at least 30 minutes. Less than that isn't going to make her orgasm.
The reason is women need more time to warm up and reach orgasm than men. And those in their 50s need extra time to get ready for the act as well.
This brings us to the second point.
2. Lots Of Foreplay
You may be able to skip foreplay with younger girls. But, it's something that you must always do if you want to get a 50 year-old woman in the mood.
This is because women's bodies change as they get older. AARP's article explains that women in their 50s and above will need more time to get wet.
Therefore you have to flirt for a while before getting in the bedroom, and then use your tongue or fingers to lubricate her.
Unless you eat her out or stroke her clitoris for more at least 15 minutes, you don't stand a chance. Listen to what this mature woman has to say…
3. Use of Sex Toys
By their 50s, women are in tune with their bodies as they have the sexual confidence they didn't have in their 20s. so they're not afraid to use sex toys to fully enjoy sex.
And as such, they want a man who isn't afraid to keep up with their sexual habits. Get yourself comfortable using anal plugs, vibrators, dildos, and the like.
Doing this will excite her. The more parts of the body you can stimulate simultaneously, the better.
4. Experiment In Bed
Although there's nothing wrong with vanilla sex, it's not unusual for older women to embrace their kinks in bed. In light of this, they're much keener on having unconventional and thrilling sex.
Perhaps the mature lady you're after even has a taste for threesomes or roleplaying. Or perhaps enjoying having sex in public places.
Can you blame them, though? Years of having the same old sex can get stale after all.
On account of this, you must be willing to experiment if you're into 50 year old women. They want to sleep with guys who are open to trying new experiences.
5. Equal Give And Take
Are you a fan of blowjobs but aren't down with eating out women?
Then you better start to like it if you want to satisfy a 50 year old woman in bed. They hate men whose only purpose is to please themselves.
For the most part, women this age are all about fairness in the bedroom. This means you have to prove that you're a person who gives and takes, not just someone who wants to keep on receiving.
Moreover, once you've assured her that you're eager to please her, she won't hesitate to let you in her pants.
6. A Cooperative Partner
Due to the generation that they grew up with, men aged 50 and above commonly have bossy and stubborn personalities.
They're pretty much submissive to their actual or previous partner. A change of fresh hair would be appreciated.
Let her take the lead some time and plan out sexual fantasies together. This type of cooperation is exciting for women this age.
Listen to her sexual desires and adjust appropriately to fit the situation.
That is, you'll let her take the lead if she wants to. And when she wants to be submissive, you'll be in charge.
7. A Partner That Accepts Their Guidance
Mature women are aware of what makes them feel good. And they're not interested in men who only do what they want.
When she let you know that she prefers to be touched in certain parts rather than in others, take note.
And if you want to go the extra mile, ask questions. Things like: "How do you feel when touching you here?"
She will be glad to guide you forward with her pleasure.
8. Open Communication
Being younger, you may assume that it would be best to simply go with the flow.
Why not when she's more experienced, right?
But to make a lady in her 50s want you in bed, you need to be able to communicate with her openly.
She won't be interested in a passive guy who'll go along with whatever happens.
What she wants is a man who can speak up. One who can tell her how to improve the sex experience.
Show her that you're an active partner who can respectfully voice his opinions.
9. Attentive Partner
Everyone knows that sex feels great, making it easy for people to lose themselves in pleasure.
Yet, when you're aiming for older women, you can't just focus on yourself. At this point, being mindful is a must.
The reason is 50 years old women and up have no problem guiding you initially. But they won't direct you from start to end.
So pay attention to her body language and reactions to respond accordingly. If not, you'll seem like a child who can't do anything on his own.
How To Please A 50 Years Old Woman In Bed
If you apply at least three of the tips above, you'll please most 50 years old women in bed.
Of course, sexual desires change from woman to woman. But with open communication, you can learn more about each woman you sleep with.
Remember to take it slowly, and enjoy having great sex.
RELATED ARTICLES