Detroit Hook Up Guide For Singles And Couples
If you want to get laid in Detroit, this guide will help you to have great sex experiences.
We'll go over a wide range of topics including the local hookup culture, the swinging scene as well as the best adult venues in the city.

The Detroit Guide was last updated on 12 September 2022
Sorry to burst your bubble, but Detroit is one of the worst cities for singles and couples to have casual sex in the U.S.
As surprising as it may sound, the people here are extremely cautious and prefer minding their own business.
Yet, getting laid isn't entirely impossible. After all, people still have sex and fun. Only it takes more effort than in the most sexually active cities in the United States.
–
• Gender Ratio: women vs men – There are more men than women in Detroit with a gender ratio of 98 men to 100 women compared to the Michigan gender ratio of 102 men to 100 women.
• Ethnicity – 77.7% Black, 10.8% Caucasian, 6.2% Hispanic, 2.3% Some Other Race.
• Number of Sex Clubs – 2 swinger clubs, 11 strip clubs and 0 BDSM clubs.
–
***
Click a link to skip to that section. Don't skip any sections!
–
Sex Life And Hookup Culture
Detroit people didn't make our list of the 10 most sexually active cities in the United States. There are only 2 swinger clubs, no BDSM venues, and most of the Detroit sex parties are held privately.
Yet, it's pretty common to find a fuck buddy instead of committing to a serious relationship for people in their 30s and 40s.
Overall Mindset About Casual Sex
Despite being the largest city in Michigan, the casual sex scene in Detroit is rather dull. This study even shows that it's one of the worst cities for singles.
Swinger Activities in Detroit
There are only 2 on-premise swingers clubs available in Detroit. All of them are private clubs, so you'll need to apply as a member or request an invitation to join.
If you want to avoid membership and entry fees, you can simply get in contact with Detroit's members on Adult Friend Finder.
Let them know you've just arrived in the city and looking for a good time. It won't take long before someone invites you to a private sex party.
Is It Easy To Hook Up in Detroit?
People here mind their own business so it isn't easy to hook up with strangers in social settings. It's better to use hook up sites to get in contact with horny singles and couples.
Where to Meet People For Sex in Detroit
Whether you want to explore your kinks, enjoy the swinger scene or simply find nightstands, let's see what this city has to offer.
Get ready to explore the best places and ways to get laid in Detroit…
1. Sex Dating Online
Nowadays people of Detroit prefer to use popular sites like Adult Friend Finder to hook up with horny singles and couples.
There aren't as many users as Tinder but the users that are there, are there for one reason – to have casual sex. There's a lot less flakiness and misunderstandings.
2. Nightclubs and Bars
Detroit has a fantastic clubbing and bar-hopping scene. But don't think that means nightstands are common here as people mind their own business.
Following are some of the best bars and nightclubs in Detroit:
• Baker's Keyboard Lounge – Located at Livernois, one of the oldest jazz clubs in the world. Plenty of cougars looking to hook up.
• T V Lounge – Located at Grand River Ave, if you want to enjoy late-night rave scene and score potential hookups.
• The Old Shillelagh – Located at Monroe St, a hub for grad students to hang out, making it one of the best college bars in town.
• The Sugar House – Located at Michigan Ave, an intimate venue that serves a variety of drinks.
• Leland City Club – Located at Bagley St, this goth nightclub rocks a dark atmosphere and can be a great place to make out.
Like most cities, the heart of Detroit lies in its Downtown area. Here you can go to Corktown where you can find plenty of venues to grab drinks with strangers, along with hip restaurants.
Alternatively, Midtown gets packed with a young crowd due to the nearby Wayne State University.
Lastly, for all the party lovers, Greektown takes the lead with its plethora of nightclubs and nighttime activities.
3. Sex Clubs: Swinging And Sex Parties
There are only two sex clubs in Detroit. The first one is Angel Entertainment, an on-premise club that hosts weekly events.
The other option is Wild Walkers. Although it doesn't allow nudity on site, it's still a great place to meet other couples who you can later invite to your place or a hotel.
Other than that, you can get in contact with Detroit members on AFF. There you'll find opportunities for having threesomes, swooping partners and invitations to private sex parties.
If that sounds like too much of a hassle, then Chicago is only a 4-hour drive from Detroit where you'll find several swinger clubs.
4. BDSM Clubs
BDSM clubs in Detroit are still an unchartered territory due to how reserved the people of this city are.
Platforms like Alt.com is your only bet to connect with a community of kinksters.
Other than that, if you truly want to explore your fetishes then Los Angeles in California is famous for the intense bondage experience it offers.
5. Transsexual Friendly Gay Venues
Like most U.S cities, Detroit is also trans-friendly. But lacks exclusive venues for them.
Nonetheless, if you want to meet trans people in Detroit then Gigi's Cabaret and Five15 often host drag shows where you will find T's.
Apart from that, it's worth signing up on transgender dating sites as they can help you find both hookups and sincere relationships with transsexuals.
6. Strip Clubs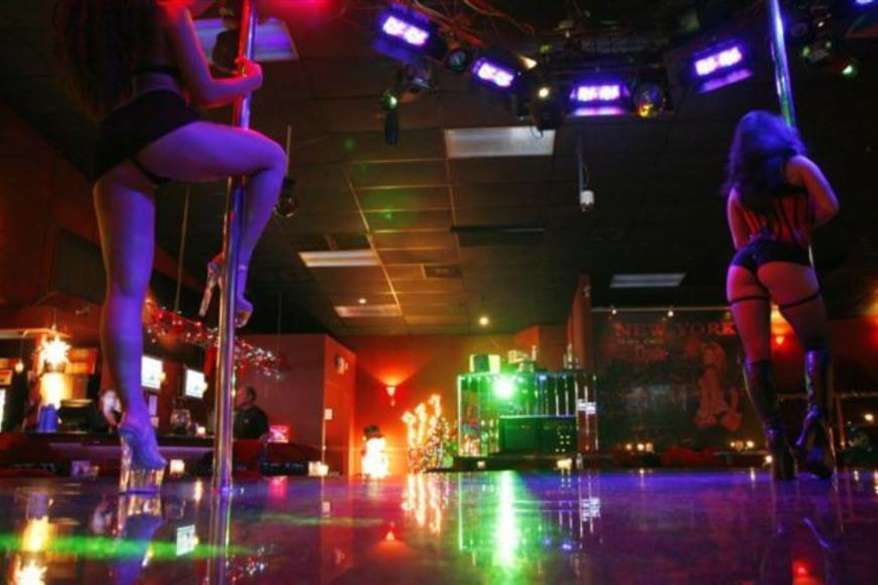 The last place where to find hookups in Detroit is the striptease clubs. Just go down to 8 Mile Road.
So what venues you can visit to have a naughty night out?
Here are the best strip clubs in Detroit:
• Dream Girls – Located near Lincoln Park, want to enjoy private dances with sexy girls? This top-rated strip club wouldn't disappoint you.
• Centerfold Lounge – Located at John R St, a strip joint with topless dancers at only a cover fee of $5. Not a bad price to pay for the fun.
• Penthouse Club – Located at 8 Mile Road, a popular gentlemen's club with erotic lighting and an environment to get you in the mood.
Sugar Daddies & Sugar Babies in Detroit
Detroit is a fast-paced city where the locals are usually busy with work.
While most people are interested in hooking up, long-term commitments are at the bottom of their priority list.
This is why regardless of how much sex you're getting, you might still find yourself feeling lonely at the end of the day.
Yet, don't worry because there's still a way to find the perfect partner in Detroit. That person who offers intimacy, friendship and companionship without all the drama of a serious relationship.
Yes, we're talking about finding a friend with benefits with some incentive.
There are plenty of sugar babies in Detroit who are seeking a generous man. And many sugar daddies looking for a young, outgoing, and drama-free girl.
The easiest way to find mutually beneficial relationships in Detroit is to use a site like Sugar Daddy Meet. The site is designed only for sugar dating.
To get started, all you have to do is create a profile and be honest about your expectations. It won't take long before finding the right partner.
Best Places For Outdoor Sex
Does the idea of having sex in public places sound thrilling to you?
So here are our recommendations for outdoor sex in Detroit:
• Campus Martius Park – One of the largest parks in town, it shouldn't be surprising why it is on the list.
• River Rouge Park – Covering an area of 1,300 acres, it's easy to find a place here for car sex.
• Fairlane Town Center – A large mall with large parking, just make sure your car is parked far away from the entrance.
• Blue Heron Lagoon Trail – A place popular among youngsters, you're likely to find other people banging here as well so find yourself a corner.
Hotels And Hostels For Sex in Detroit
If you plan to organize a sex party or simply want to swap partners with another couple, these hotels offer the best experience:
For the single guys who want to maximize their chances to get laid, they can either try to hook up on Couchsurfing or book a shared room in hostels.
Below are our recommendations:
Safe Sex And Clinics
Having sex raw can be tempting, but it's not worth the risks that come with it. Instead, you can go for extra thin condoms and enjoy the best of both worlds.
Yet, if you're uncertain about your sexual health then visit Detroit Public Health STD Clinic or Oak Park Urgent Care Clinic for easy check-ups.

This is the end of the Detroit sex guide. Enjoy hooking up here.
Related Articles