How To Find A Transgender Woman – 9 Tips
Are you into trans women but don't know where to find them?
Well, whether you live in a small town or a big city, there are probably trans women near you.
Some might just be hanging out at your local bar, while others are probably afraid of coming out of the closet.
And to make it worst, it isn't so easy to distinguish between trans and CIS women. This is because many are very feminine.
So in this article, we'll look at 9 tips on how to find a transgender woman for dating and hookups.
1. Use Trans Friendly Apps and Sites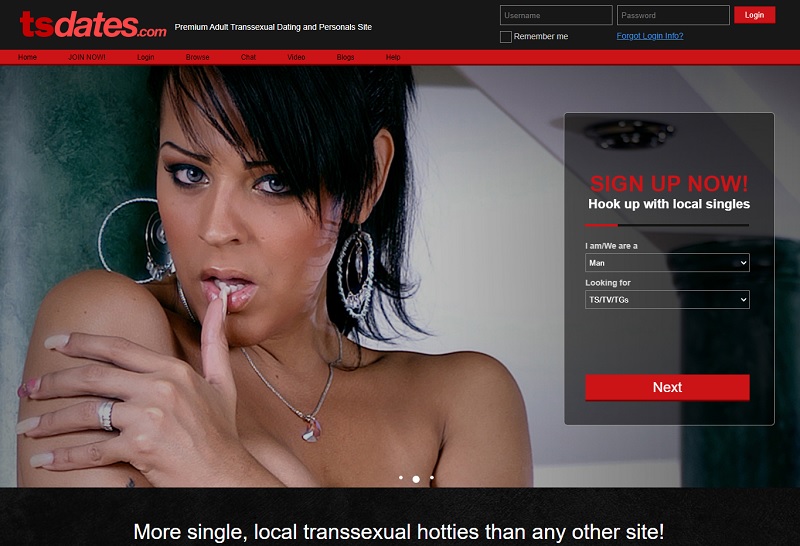 We've said this plenty of times and in the past, and we'll say it again – the easiest way to find a trans woman is through trans friendly sites and apps.
You're guaranteed to find trans women on such platforms for both hookups and to form sincere relationships.
If you're wondering which platforms are worth your time, then TSDates and Ladyboy Kisses are solid options to get started.
Both of these sites have a massive user base and a variety of filters to help you find the perfect match.
TSDates is all about hookups while LadyBoy Kisses is also into serious relationships and not only casual dating.
In addition, the users on these sites also have their gender specified on their profiles.
This helps in eliminating the usual confusion people have when dating or hooking up with transgender on traditional dating sites.
2. Don't Visit Gay Bars
There's a common misconception that it's easy to find trans women in gay bars. However, that's hardly the case.
Sure you can pay a visit and try your luck. More often than not, it'll be a waste of time.
You're actually more likely to find trans men in gay bars – which makes more sense.
So where is it easier to find trans women? Well, practically any place that appeals to cis women. Be it bars, nightclubs, or even restaurants – it's possible to find trans women at all of these places.
3. Take a Trip to Thailand or the Philippines
Some countries offer higher chances of meeting trans Women. Thailand and the Philippines are definitely at the top of the list.
Not only you'll find beautiful ladyboys (Asian trans women), but also in abundance.
Besides the red light districts where you'll find shemales hookups, beauty shops and hair salons are popular places for trans women to work.
If you're wondering where to meet trans women in any city around the world, then our City Sex Guides have got you covered.
Pick the destination you're staying in, and browse down to the "Transsexual and Transgender" section to get more information.
4. Get Involved in the LGBT Community
Trans women often feel reluctant to come out in public due to the fear of being harassed. So the best way to connect with them is by getting involved in the LGBT community.
Depending on where you live, the chances are that LGBT festivals and events are hosted from time to time.
Make sure to stay updated with their calendar, and don't miss the chance to attend such events.
You're likely to find hot trans women in large numbers at these places.
And getting involved in the community would also earn your some brownie points by showing that you're open-minded.
5. Search for Trans Friendly College/Universities in your Area
Another way to find trans women is by searching for them in colleges and universities. Most big educational institutes in Western countries have LGBT clubs that you could join.
And it shouldn't come as a surprise that these clubs are also a hotspot to meet trans women.
Besides that, joining these clubs can connect you with more people of the LGBT community.
There's even a chance that you could then receive invitations to exclusive events where it would be easier to find trans folks.
6. Browse Online Trans Forums
This option is similar to the use of trans dating apps, but most people don't consider it.
There are plenty of online forums where you can mingle with trans women. So how can you find these forums? Well, that is also quite simple.
Simply search the keyword "trans forums" online, and you'll see hundreds of results matching your search query.
And to help you get started, there's a Trans Everything community that you can join on Reddit.
People post information about trans events and meetups there from time to time.
Aside from that, joining the community can also help you learn more about trans folks. Which we believe could come in handy when you'll flirt with trans women.
7. Attend Pride Parades and Drag Shows
Search around and learn if a yearly Pride Parade is held in your city. If so, then mark your calendar because this is one event that you don't want to miss.
There is no shortage of trans women there. And because everyone is in a party mood, we can say that attending Pride Parades is one of the best ways to hook up with a transgender.
Similarly, there are also other events like drag shows that are considered to be a basecamp for trans folks so keep an eye out for those.
Western countries have plenty of drag bars, so ask around and see if you can find any leads.
8. Join a Local LGBT Friendly Organization
Even if you live in a conservative country, don't lose hope. It's still possible to find trans women, you'd just have to search harder.
Look around and see if there's a local LGBT friendly organization that you could join. Note that some of these organizations may still be closeted about supporting trans.
So try connecting with more open-minded people. And in general, join human rights groups.
But if you're fortunately from a Western country, then you shouldn't face that much of a problem.
You can easily find plenty of LGBT friendly organizations by attending Pride Parades or by following other methods that we've discussed above.
9. Find LGBT Groups and Pages on Social Media
Another great way to connect with trans women is through the use of social media. Start from Facebook and simply search "transgender in + (the name of your country)".
There's a high chance that you'll quickly get relevant results.
At the very least, you'll be able to find LGBT-friendly groups and pages to connect with the community.
Stay active on these groups, show that you're open-minded and it'll only be a matter of time before you find a transgender woman to date and hook up with.
Finding Transgender Women is The Easy Part
As you can see from the above tips, finding a transgender woman is easy when you know where to look for one.
Yet the hard part for most men is to understand how they feel and know how to treat them.
Though hooking up or dating a transgender woman is pretty much like with a CIS woman, several men let their curiosity get in the way.
This is why we suggest learning how to flirt with a trans woman before actually looking for one. So you'll avoid the mistakes most people do after finding a transgender woman.
RELATED ARTICLES